I have over-committed myself on many fronts. My desire to be helpful gets the best of me. Then I become one of those people I despise, one who doesn't deliver on promises. People tell me it's a good thing that business has grown so much. But the downside is not being able to deliver on the promises I make.  It's much easier to say "no" up front, than to keep saying I haven't gotten to it yet and to give me a little more time.  This is not a new lesson.  It makes me laugh how I ignore life's small lessons.
Over the holidays, I went to Utah to visit friends and to do some hiking and photography. The ends of the trip were all about dodging storm systems and semi-trucks. (Actually the semi-trucks were fine; it was the icy roads and idiot drivers of SUVs and pickups.)
On the way to southern Utah, I stopped at the Crystal Geyser near Green River.
I've been to the Crystal Geyser before.  It's not a natural geyser, as the geysers are in Yellowstone. This one was created accidentally when drilling for oil back in 1936.  It's nothing but an old rusty pipe sticking out of the ground.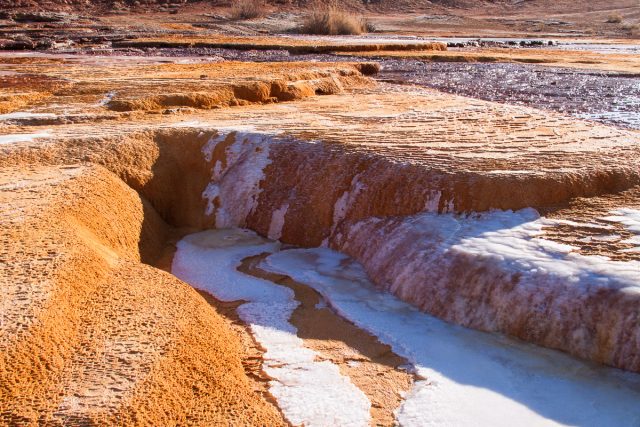 It wasn't erupting when I stopped by. But this made the photography more interesting because ice had formed from the previous eruption (probably sometime during the night).  One of these days, I'd like to camp at the geyser so I can witness a proper eruption.
The sun in southern Utah was sparse. But again, it provided for more scenic photos.  Actually some of these photos might be from extreme north-western Arizona near the Virgin River and Beaver Dam Wash.
It seemed like a pretty short trip, which included going to an art museum featuring artwork about our national parks, visiting a restaurant on a cliff overlooking St. George, and last but not least, hanging out with friends.
It's time I get back to my commitments. Perhaps my new year's resolution should be "Just Say No".  Nah…